Extreme Weather and Emergency Management: Canada's DART
Invalid Displayed Gallery
On November 28th, 2016, IDI hosted DART (Disaster Assistance Response Team) with Lieutenant-Colonel Ed Izatt, Commanding Officer and Chief Engineer at the 1st Canadian Division, serving as speaker.
r. Izatt explained that DART doesn't technically exist as it is not a standing unit and cobbles people together with different skill sets who are ready to deploy in 4–48 hours. This is because DART exists as a quick response unit for addressing areas that have been deemed to have gaps when there is a large scale disaster. DART does not operate alongside local governments and NGOs do. They are second responders who arrive three days after the disaster has occurred, to step in, analyze the situation, and set up logistics and coordinate of resources. They generally leave after 30 to 70 days of operation in the disaster area.
Mr. Izatt explained DART's role as analysis in the first 11 days and used the bridge exampled. They need to find the bridge, assess what is need to fix the bridge, and find a workaround before they even start to fix the bridge as it takes quite a while. One of the secondary roles is giving confidence to the people in the affected area with the presence of official uniforms, which helps to mobilize the local population and push against the effects of shock.
DART comprises 200–500 personnel from medics and engineers, to soldiers and aviators. Lawyers are even included for things such as property laws that people operating in other areas of specialty would not necessarily consider. Mr. Izatt explained the importance of this as DART is part of the Canadian military and is not a neutral organization nor are they operationally independent.
DART's future role is becoming more complicated, Mr. Izatt explained, with the reality of complex disasters and humanitarian needs that extend beyond things like earthquakes with the rise of extreme climate change disasters. Humanitarian relief in a war zone is also a tricky thing to navigate since DART needs to be invited into a country, and they work with and for ambassadors and local governments, since they come with the full weight of the Canadian military. They operate in overwhelming disaster conditions where the military needs to be called in as a last resort.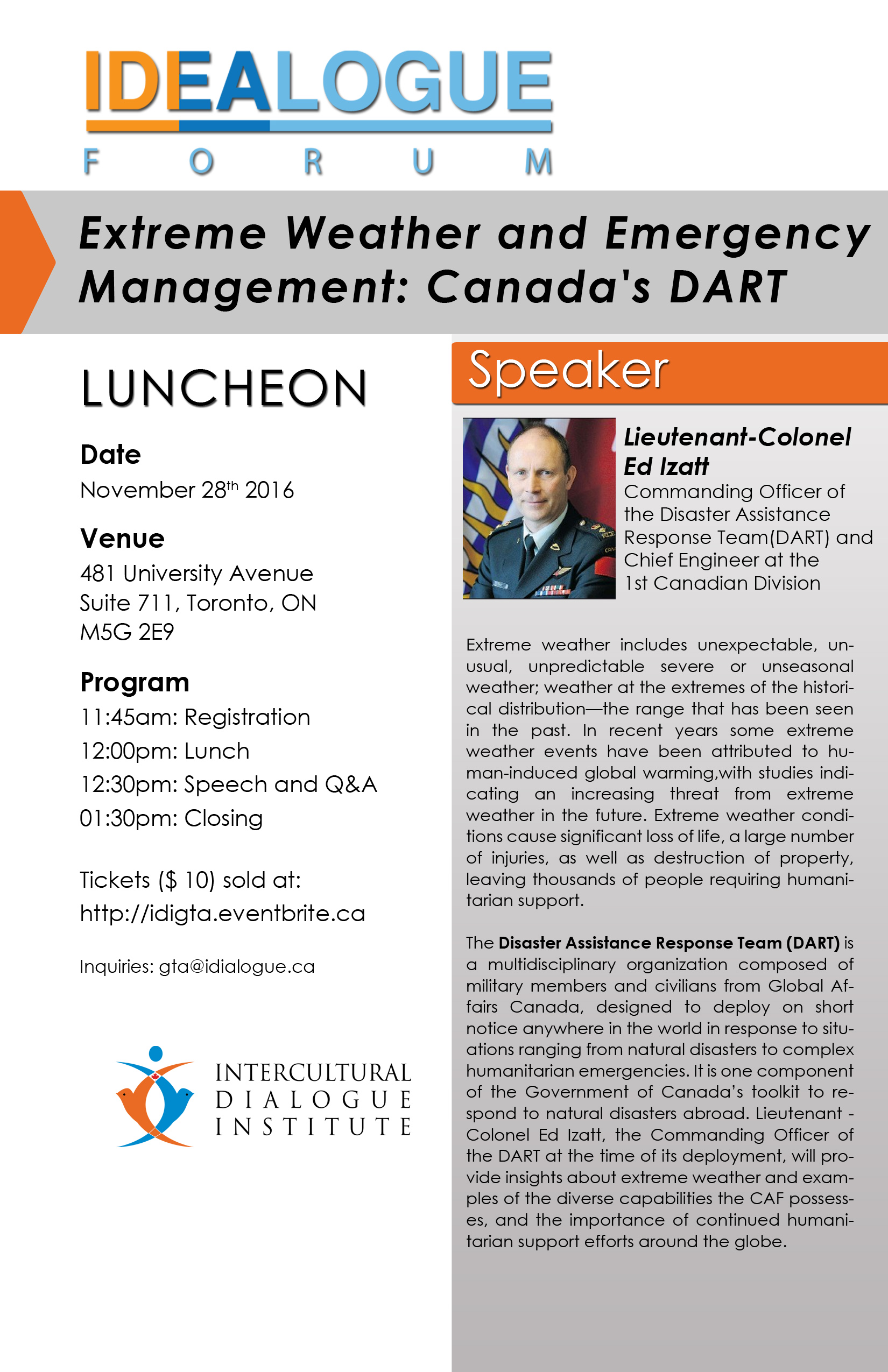 Event Description:
Extreme weather includes unexpectable, unusual, unpredictable severe or unseasonal weather; weather at the extremes of the historical distribution—the range that has been seen in the past. In recent years some extreme weather events have been attributed to human-induced global warming,with studies indicating an increasing threat from extreme weather in the future. Extreme weather conditions cause significant loss of life, a large number of injuries, as well as destruction of property, leaving thousands of people requiring humanitarian support.
The Disaster Assistance Response Team (DART) is a multidisciplinary organization composed of military members and civilians from Global Affairs Canada, designed to deploy on short notice anywhere in the world in response to situations ranging from natural disasters to complex humanitarian emergencies. It is one component of the Government of Canada's toolkit to respond to natural disasters abroad. Lieutenant – Colonel Ed Izatt, the Commanding Officer of the DART, will provide insights about extreme weather and examples of the diverse capabilities the CAF possesses, and the importance of continued humanitarian support efforts around the globe.
About the speaker:
Lieutenant-Colonel Edward Izatt is the designated Commanding Officer for the Canadian Armed Forces Disaster Assistance Response Team (DART). A Canadian Military Engineer by trade, his service since 1984 has been diverse.
His engineer duties, with a mixture of domestic and international operations, cover the complete military range from unit tactical command at 1 Combat Engineer Regiment (Edmonton) to strategic Chief Engineer – Current Operations, NATO Supreme Headquarters Allied Powers Europe (SHAPE -Belgium).
As a general staff and liaison officer he has been employed by alliance and coalition organizations in Europe, the Middle East, and Southwest Asia. His Canadian Army institutional posts include Section Chief for Army Professional Development; chief personnel management and policies – Army Western Area (J1); and Dean of the Canadian Army Command and Staff College. He is currently the chief engineer at the 1st Canadian Division, Kingston.