Public Heroes GTA 2018 Awards Ceremony & Dinner
no images were found
On April 19th, 2018, IDI held its annual Public Heroes awards ceremony to recognize the excellent work of seventeen First Responders and Armed Forces do in their community. This year's awards ceremony was held again in Toronto, after ceremonies in York, Peel and Durham regions. The evening's MC, Brad Bowie, mentioned the goal of organizing the award ceremony in York Region next year. The charity partner for the evening was Camp Oochigeas, which is a camp dedicated to given children with cancer the opportunity to experience camp while also providing for their medical needs.
The evening was well attended with a number of dignitaries and community leaders present including, Gerri Lynn O'Connor, Regional Chair for Durham; Pat Malloy, Deputy Mayor of Uxbridge; Ingrid Svelnis, Chief Administrative Officer of Uxbridge; Commander Mike Griff, Toronto Paramedic Services; Inspector Don Halina, RCMP; Daryl Ewan, Director of Operations at ORNGE; Deryn Rizzi, Deputy Fire Chief with Vaughan Fire and Emergency Services; Inspector Cathy Bowden, Durham Regional Police; Michael Wasylyk, South Detention Centre; Vince Hawkes, OPP Commissioner; Robert Johnston, Commander in the Canadian Armed Forces; Matt Pegg, Chief of Toronto Fire Services Chief; Peter Yuen, Deputy Chief of Toronto Police Services; Mark Andrews, Deputy Chief of Peel Regional Police; Phil Alexander, Fire Chief of Uxbridge Fire Department; Tim Beckett, Chief of Mississauga Fire and Emergency Services; Jim Wall, Chief of King of Fire and Emergency Services.
The Lifetime Achievement Award was presented to Vince Savoia, Founder and Executive Director of The Tema Conter Memorial Trust, for his work in mental health and peer support. He was recognized by CAMH as a Difference Maker, and one of the 150 leading Canadians for Mental Health.
Senator Gwen Boniface was the keynote speaker for the evening. She began by congratulating
the awardees and spoke of her time as Deputy Chief Inspector of Ireland's Garda Síochána
Inspectorate and her work in transnational crime with the United Nations, as well as the lessons
it taught her.
Senator Boniface then shared an anecdote a colleague had once told her of a boy in Haiti. Shortly after the earthquake, her colleague travelled to Haiti to help with rescue efforts. He always carried around hard candies for the kids, he explained. He gave one to the smallest boy one day, who proceeded to hit the candy with a rock and share it among his friends. Senator Boniface explained that these are the moments that make First Responders continue their work.
Senator Boniface shared another anecdote of her time teaching the police force in Kabul, and she explained why she would be observing the moment of silence on November 11. She didn't require any of her students to observe it with her, but they did anyway and thanked her afterwards for the work that Canada does.
Following the Keynote address, the Public Heroes Awards were presenters to the awardees. Please see the list of the award recipients and list of presenters below.
Keynote Speaker: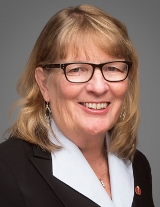 Senator Gwen Boniface
Former Commissioner of the OPP, and the Past President of the Canadian Association of Chiefs of Police
Lifetime Achievement Award:
Vince Matthew Savoia, M.S.M.
Founder and Executive Director, Tema Conter Memorial Trust
Charity Partner:

Date:
April 19, 2018, 6.30pm
Venue:
Parkview Manor, 55 Barber Green Rd, Toronto, ON
*List of award recipients and their services are listed below:
IDI GTA has been giving Public Heroes Awards since 2011 to recognize the outstanding service of Toronto Police, Fire and Paramedic Services in maintaining public safety in the city of Toronto. In 2014, upon recommendation from its advisory board, IDI GTA has decided the extend the scope of the awards to whole Greater Toronto Area (GTA).
The goal of the awards is to recognize the dedication and excellence of individual members or team members of police, fire and paramedic services in GTA (including RCMP, OPP, ORNGE and Corrections Ontario) for delivering their services in an ethnically and culturally diverse environment.
Award recipients are selected by a hosting & selection committee based the following three criteria: "Altruism", "Dedication" and "Community Involvement".
Members of the Hosting & Selection Committee
Armand La Barge Retired Chief, York Regional Police Service
Bill Blair Member of Parliament, Scarborough Southwest
Bruce Farr Retired Chief, Toronto Paramedic Services
Bruce Newton Superintendent, Toronto Paramedic Services
Chuck Mercier Former Mayor, Township of Scugog
Colin Carrie Member of Parliament, Oshawa
Dave Ralph Retired Commander, Toronto Paramedic Services
Deryn Rizzi Deputy Chief, Vaughan Fire Department
Johnny Bobbili Constable, Toronto Police Service
Mike Ewles Retired Chief, Durham Regional Police Service
Peter Yuen Deputy Chief, Toronto Police Service
Rahul Bhardwaj President & CEO, Toronto Community Foundation
Rose Buhagiar Director, Toronto South Detention Centre
Tony Warr Retired Deputy Chief, Toronto Police Service
Usha George Dean, Faculty of Community Services, Ryerson University
Nominations, Selection Process and Awards
One staff member or a team from each service in all four regions of GTA (Peel, York, Toronto, Durham) as well as members of RCMP, OPP, ORNGE and Correctional Services will be awarded with Public Heroes Award. Nominations can be submitted online by members of the public. Selection committee will cast their votes online to determine the award recipients.
Click here for Public Heroes Awards Ceremonies from previous years…