Invalid Displayed Gallery
——————————————————————————
Premiere screening of Helene Klodawsky's latest documentary "Grassroots in Dry Lands" was held at Emmanuel College of Victoria University under University of Toronto on January 27, 2016. Filmmaker, Helene Klodawsky was available to answer questions from the audience after the screening. Nuha Dweikat-Shaer (Palestinian social worker in the film, a pioneer in social work in Palestine), and NFB Producer Kat Baulu were also in the panel to answer questions.
Screening event was jointly organized by IDI GTA, Cordoba Centre, and Emmanuel College. Grassroots in Drylands is produced by Informaction Films in co-production with National Film Board of Canada.
THE FILM
Set in Palestine, Israel and Jordan, Grassroots in Dry Lands reveals a unique human-rights-based approach to democratic change taking root in neighbourhoods across the region. This intimate documentary, filmed in radiant warm light in homes, streets and community centres, takes us into the world of social workers who struggle to apply university-taught ideals to realities on the ground. They are building hope through their commitment to social change and their belief that all peoples of the region deserve the same rights.
In observational style, but with in-depth access, the film shows these skilled civil society activists at work, helping people through crises, accompanying them to official meetings, encouraging them to claim their rights, to speak out against violence and to challenge legal, political and religious forces.
Seasoned filmmaker Helene Klodawsky spent five years gaining the trust of her characters and brings her knowledge of the region to bear on the complex issues at hand. She delivers an original, unprecedented perspective on the Middle East. Rather than focus on top-down peace initiatives, the film shows how seeds planted by passionate activists and their armies of community organizers, psychologists, lawyers and volunteers are taking root and producing hope for lasting change.
ABOUT THE FILMMAKER
Helene Klodawsky is a veteran independent filmmaker and a passionate artist. Her poignant films reveal a commitment to both social and political struggles, as well as to her chosen art form. Since her first, award-winning short, Painted Landscapes of the Times (1986), Helene has directed many independent documentaries exploring subjects as diverse as shopping malls and political murder. Screened and televised around the world, her films have received numerous honours and been extensively reviewed. In 1987, Helene made her groundbreaking film, Shoot and Cry, about the Israeli-Palestinian conflict. With Grassroots in Dry Lands, she returns to the Middle East to deliver an unprecedented perspective on the region.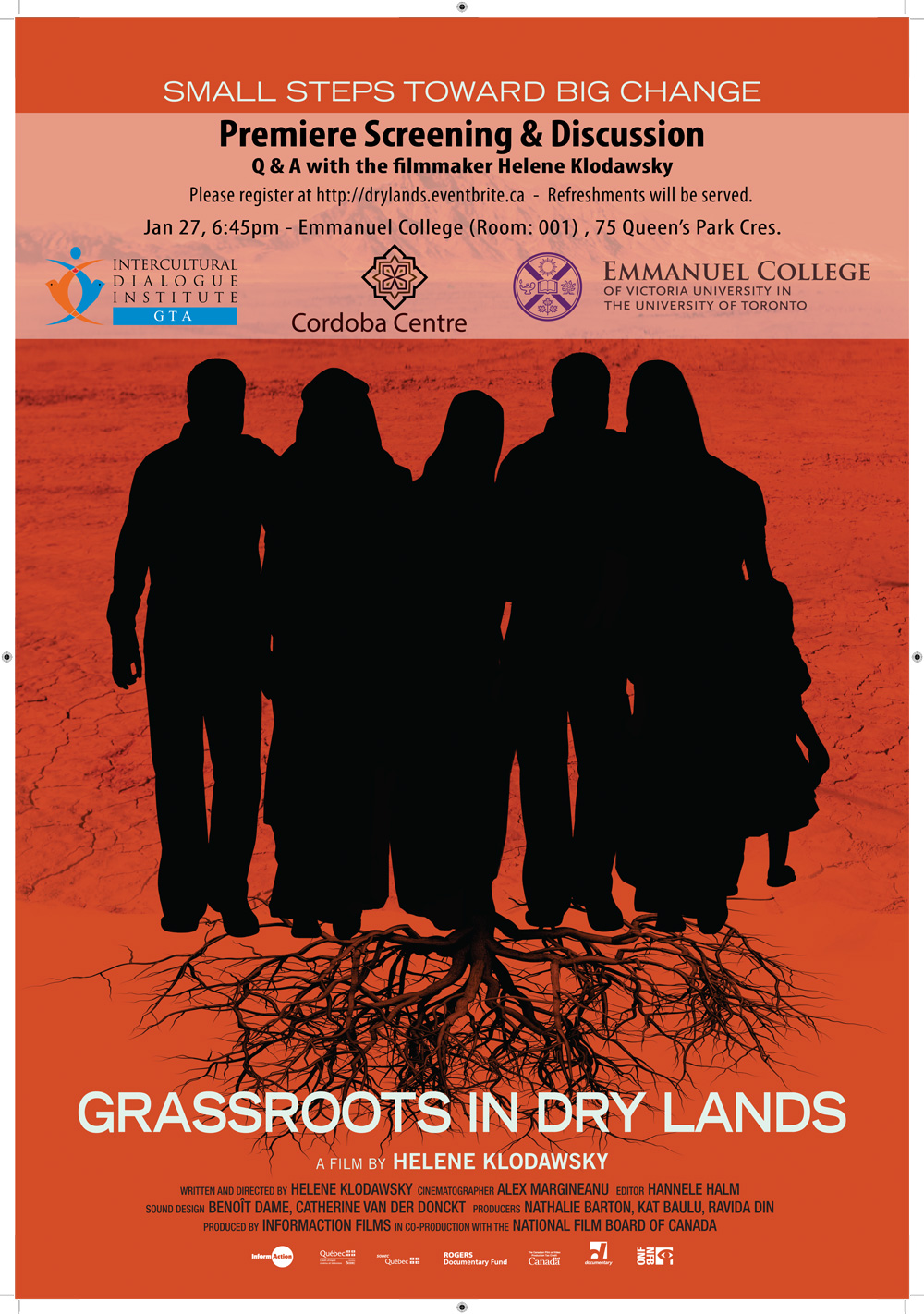 Invalid Displayed Gallery