Exploring Faith Series: "Sikhism: All in One and One in All"
IDI GTA invites you an interactive presentation on Sikhism.
Discover the basics and unique concepts of Sikhism and how it can help you in your life.
Venue:
Multi-faith Centre, University of Toronto
Koffler Institute,569 Spadina Avenue, Toronto, ON
Date/Time
Wednesday,October 10, 11:45 AM to 1:45 PM
*Lunch will be served.
Exploring Faith Series of event aims to increase religious literacy, break down the myths about religious traditions, create a positive engaging learning environment with the participation of adherents from faith or no-faith background.
Speakers: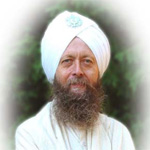 Guru Fatha Singh Khalsais an insightful and inspiring teacher of Kundalini Yoga, and one of the world's leading authorities on the teachings of Yogi Bhajan. Guru Fatha has written several authoritative books and published a number of historic transcripts and recordings of these empowering teachings. He is an outspoken advocate for human rights, peace, and a healthy environment. Guru Fatha Singh is also involved in ground-breaking research into the transformative effects of Kundalini Yoga on practioners' health and well-being.
Harry Mann has been practicing law for more than 30 years. He is also an Inquiry Officer in the Province of Ontario. Prior to commencing his own practice, Harry practiced with the Law Firm of Green and Spiegel in Toronto. From 1983 to 1988, Harry practiced law in India, specializing in criminal litigation and was counsel to many large Crown Corporations and Chartered Banks. Among his many community and professional activities, Harry is currently the President of the Board of Directors of Peel Children's Aid Society. He served at numerous organizations at various capacities including the United Way of Peel Region, the Peel Law Association, the Lions Club of Erin Mills in Mississauga, and the South Asian Lawyer's Association. He is a Director of the Sikh Foundation of Canada, which was responsible for bringing the very successful Arts of the Sikh Kingdoms Exhibition to the Royal Ontario Museum. Harry has also been involved with the South Asian Heritage Foundation as its Chairperson.